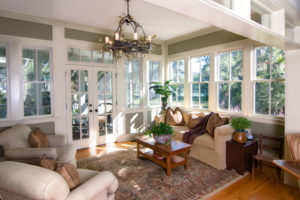 If you haven't taken the time to enjoy the weather lately, you ought to. We've finally been hit with comfortable temperatures and sunshine-filled days so it's always good to get in some relaxation while you can! All this nice weather may be leading you to think about how you can take advantage of the season even more though. A sunroom addition is an attractive way to add some additional living space so you can enjoy those wonderful outdoor views, so read on to find out some of the biggest benefits of investing in a sunroom addition.
Create a Versatile Space
Your sunroom doesn't just have to be an indoor-outdoor lounging space, although it certainly excels at that. It's a flexible space that can be easily transformed into an outdoor dining space, a breezy office area, or even a master bedroom with tons of natural light. Don't be limited by what you think a sunroom addition is typically used for, you can turn your sunroom into whatever kind of room you need.
Cost Friendly
Compared to other kinds of home additions, sunrooms are actually very affordable. Of course, much of this depends on what kind of features and amenities you absolutely need, but a good custom home builder can help work within your budget to find what's right for you.
Upgradeable
If you've ever been in an older sunroom that doesn't have any upgrades, you might have some fear of the space becoming an unbearable hot box during the really intense summer days, leaving you unable to use the room for much at all. These days, sunrooms can come with HVAC systems and complete electrical systems, allowing you to use the room however you'd like whenever you'd like.
Additional Home Value
Curb appeal is the name of the game for many homeowners and sunrooms are an easy way to dig up some additional value for your home. If you're planning on selling your home down the line, a luxurious sunroom is an enticing feature that will get a lot of folks curious about your property.
Energy Efficient
A quality sunroom will come equipped with high-quality windows that improve your home's energy efficiency. Because you can now take advantage of a naturally heated room whenever you're looking to warm up a bit, you can also turn the heat down and enjoy your outdoor space instead of pumping up your utility bill.
Contact Accessible Home Builders Today
Here at Accessible Home Builders, we're proud to say we've been building and remodeling homes since 1994. In that time, we've serviced the areas of Rehoboth Beach, Lewes, Selbyville, Seaford, Millsboro, Georgetown, Laurel, and more communities within Delaware. We work to guarantee a high level of professionalism, dedication, and the use of quality materials to ensure our customers have the home they deserve.
To get in touch with us, give us a call at our office at 302-663-0464, send us an email at info@accessiblehomebuilders.com or visit us in person at 28412 DuPont Blvd, #103 Millsboro, DE 19966. Alternatively, give our satellite office a call at 302-628-9571 which is located at 500 W. Stein Hwy. Seaford, DE 19973. Be sure to follow us on Facebook, Twitter, LinkedIn, and YouTube to stay updated on what we're up to!