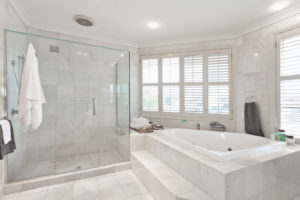 We all know why building a custom home is just so fulfilling. Being able to involve yourself in the design aspect means that a part of you ends up forever cast within the walls of your home. This serves as a constant reminder of your time spent building the home of your dreams. With that in mind, it's important that you know what the options out there are so you can advocate for the features that matter most to you. Below, we take a look at five features that can go a long way in making your custom home fit just right for you and your family.
1. Adequate Outlets
Alright, we're starting with something that may seem fairly mundane: outlets. But think about it! Today's homes are decked out in technology so you want to ensure you have power and even USB outlets wherever needed so you can keep devices charged and gadgets fully-powered. Get creative with placement by thinking about kitchens, outdoor spaces, and bathrooms, and what kinds of power options you'd like to have in those spaces.
2. Spa-Like Bathrooms
Why dish out money on a spa trip when you can recreate the experience in the comfort of your own home? A large master bathroom equipped with a soaking tub, walk-in shower, or even a sauna can do wonders for your physical—and mental—health.
3. Outdoor Cooking
Blend the line between indoor and outdoor spaces by having a porch, deck, or patio that seamlessly becomes part of your living room or dining room. This makes for an awesome hosting experience where you can grill something outside, have people still feel apart of the event inside, or get creative with all the possibilities this setup can afford you.
4. Your Own Mudroom
If you've got a big family, you know just how difficult keeping everything organized from jackets, umbrellas, dog leashes, sporting equipment and beyond can be. There's also the difficulty in making sure children don't end up tracking mud into the rest of your beautiful custom home! Create a buffer between inside and outside with your very own mudroom.
5. A Place For Wine
Finally, if you're someone who enjoys the robust world of wine, a wine cellar may be perfect for you. Even if you're not, this is a great way to impress guests and offer up an enjoyable bottle at the end of a celebratory night.
Contact Accessible Home Builders Today
Here at Accessible Home Builders, we're proud to say we've been building and remodeling homes since 1994. In that time, we've serviced the areas of Rehoboth Beach, Lewes, Selbyville, Seaford, Millsboro, Georgetown, Laurel, and more communities within Delaware. We work to guarantee a high level of professionalism, dedication, and the use of quality materials to ensure our customers have the home they deserve.
To get in touch with us, give us a call at our office at 302-663-0464, send us an email at info@accessiblehomebuilders.com or visit us in person at 28412 DuPont Blvd, #103 Millsboro, DE 19966. Alternatively, give our satellite office a call at 302-628-9571 which is located at 500 W. Stein Hwy. Seaford, DE 19973. Be sure to follow us on Facebook, Twitter, LinkedIn, and YouTube to stay updated on what we're up to!