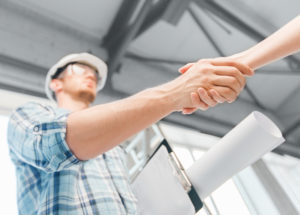 As important as all the design decisions are when it comes to building a home, the most important decision you will make during the home building process is without a doubt what local home builder you work with. After all, you can end up with a true partner who wants to breathe life into your ideas or someone who wants to stick to cookie cutter ideas. Settling for less will only mean you end up with regrets for years to come, so it's important to know what to look for. Here are our tips for finding the right local home builder for you.
Do Plenty of Research
From the get-go, you can create a few qualifiers to narrow down your search. The geographical area that a builder works in and the kinds of homes they have experience building are often some of the easiest indicators of who you should even consider working with. Beyond that, you want to do a good bit of research on each builder—what is their reputation? Do they have past floor plans available? Do you know anyone personally who has worked with them before? This kind of research can really narrow down your search from the get-go.
Look for Transparency
A local home builder should be willing and able to answer questions upfront. This also entails getting a timeline and a comprehensive estimate before building gets started. These are the kinds of builders who have a philosophy when it comes to building homes and know all the ins-and-outs of the products they typically utilize in builds. If a builder has troubles answering these questions or expressing this kind of passion, it may be an indicator that they're not the right builder for you.
Communication is Always Key
Working with a local home builder is a very personal process that requires a lot of communication from both parties. If a builder initially takes a very long time to respond to you, this may be a good sign that they aren't going to be able to communicate effectively during the process. Make sure someone has a communication method that works for you and that they are easily accessible during the whole process.
Contact Accessible Home Builders Today
Here at Accessible Home Builders, we're proud to say we've been building and remodeling homes since 1994. In that time, we've serviced the areas of Rehoboth Beach, Lewes, Selbyville, Seaford, Millsboro, Georgetown, Laurel, and more communities within Delaware. We work to guarantee a high level of professionalism, dedication, and the use of quality materials to ensure our customers have the home they deserve.
To get in touch with us, give us a call at our office at 302-663-0464, send us an email at info@accessiblehomebuilders.com or visit us in person at 28412 DuPont Blvd, #103 Millsboro, DE 19966. Alternatively, give our satellite office a call at 302-628-9571 which is located at 500 W. Stein Hwy. Seaford, DE 19973. Be sure to follow us on Facebook, Twitter, LinkedIn, Google+, and YouTube to stay updated on what we're up to!