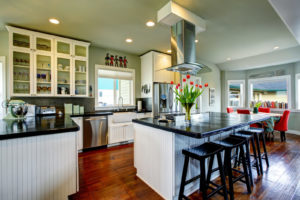 While owning a home may be part of pursuing your dreams, it's also a big investment to make. It being an investment also means that when it comes time to sell, whether that may be sooner rather than later, you want to make sure you're getting the most bang for your buck. Adding some additional value to your home can help you snag a higher resale value at the end of your time in your home, and doing so can actually be fairly easy, but you can also reap the benefits for yourself during the duration that you stay in your home.
1. Kitchen Renovations
For most families, the kitchen acts as a hub for everyone in the household. It's where people meet, congregate, cook, laugh, and grow together—and it's an important part in establishing the value of your home. You may not even need to invest in some massive overhaul, either, as something as simple as new cupboards or swapping out your flooring can do wonders for your home.
2. Basic Landscaping
Hiring a gardener, or just taking a few hours out of your week to work on your landscape yourself, is an important part of cultivating an image that will perform well on the market. Not only does landscaping boost value, but it also makes coming home to a beautiful property just that much more enjoyable. Trim back hedges to open your space up and make your home feel more inviting than ever.
3. Invest in Storage
Your typical homeowner these days is more concerned about clutter than just about anything else. Having adequate storage solutions can make or break a home's appeal to buyers, so finding ways to keep the clutter at bay is essential. Even showing off your space with multi-purpose furniture that has built-in furniture can help display the versatility of your home and how storage can be personalized to the resident's needs.
4. Keep it Clean
If you've paid any attention to recent trends in reality TV, you likely know that downsizing, getting rid of what you don't need, and maintaining a clean home are all the rage right now. Investing in a professional cleaning service can go a long way in getting those deep, hard to reach places spotless again, but even if you take the job on yourself, you'd be shocked to find out just how much cleaner your home could be.
Contact Accessible Home Builders Today
Here at Accessible Home Builders, we're proud to say we've been building and remodeling homes since 1994. In that time, we've serviced the areas of Rehoboth Beach, Lewes, Selbyville, Seaford, Millsboro, Georgetown, Laurel, and more communities within Delaware. We work to guarantee a high level of professionalism, dedication, and the use of quality materials to ensure our customers have the home they deserve.
To get in touch with us, give us a call at our office at 302-663-0464, send us an email at info@accessiblehomebuilders.com or visit us in person at 28412 DuPont Blvd, #103 Millsboro, DE 19966. Alternatively, give our satellite office a call at 302-628-9571 which is located at 500 W. Stein Hwy. Seaford, DE 19973. Be sure to follow us on Facebook, Twitter, LinkedIn, and YouTube to stay updated on what we're up to!