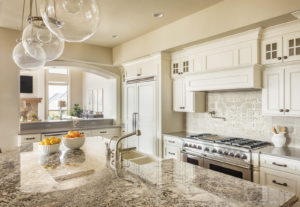 Purchasing a home, whether one realizes it or not, is an investment. You're investing in the property as well as the home itself, both of which have fluctuating values that are dependent on a billion factors outside of our control. Nonetheless, one can brace themselves for the best case scenario when it comes to home values and invest in the types of home renovation projects that will help improve a home's value when it finally comes time to place it on the market. We have three big renovation project ideas that can increase the value of your home and make it much more appealing to potential buyers.
1. Go Low Energy
The fact is, millenials as a demographic are really just on the cusp of home ownership, only having recently entered the market in a significant way. With that said, many of their preferences have already been defined, and this includes a tendency to prefer lower energy use. Plus, even older homeowners who have long felt the costs of high energy bills are interested in this as well. The best projects to make a big bump in your energy efficiency: install Energy Star certified windows, as well as appliances and heating/cooling equipment, and even LED lights, which last longer than 20 years in some case and keep your home bright.
2. Kitchen Renovation
The kitchen has always been one of the top factors that influences whether or not someone will buy a home, so it's only natural that kitchen renovations make this list. At a glance, this may seem overwhelming: your kitchen is filled with expensive appliances, flooring, countertops, and more. Focus on what needs updating most and try to balance your investment in a way that doesn't break the bank. Simple tricks like applying a new coat of paint to walls or cabinets or just updating hardware for cabinets can make a space feel fresh on a budget.
3. Include Smart Tech
In the past, high-tech features didn't offer a great return on investment thanks to how quickly technologies evolve. However, some smart devices add a quick bit of value when added right before the home goes on sale so as to get the latest and greatest in technology. This includes something like lights, thermostats, and security systems, which have a broad appeal to users and don't need to be upgraded regularly.
Contact Accessible Home Builders Today
Here at Accessible Home Builders, we're proud to say we've been building and remodeling homes since 1994. In that time, we've serviced the areas of Rehoboth Beach, Lewes, Selbyville, Seaford, Millsboro, Georgetown, Laurel, and more communities within Delaware. We work to guarantee a high level of professionalism, dedication, and the use of quality materials to ensure our customers have the home they deserve.
To get in touch with us, give us a call at our office at 302-663-0464, send us an email at info@accessiblehomebuilders.com or visit us in person at 28412 DuPont Blvd, #103 Millsboro, DE 19966. Alternatively, give our satellite office a call at 302-628-9571 which is located at 500 W. Stein Hwy. Seaford, DE 19973. Be sure to follow us on Facebook, Twitter, LinkedIn, and YouTube to stay updated on what we're up to!