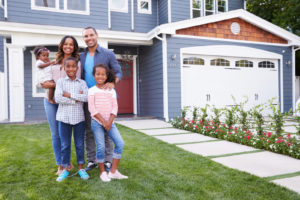 Once your custom home is built, you have all the joy of moving your belongings in and beginning to take root in a beautiful home that will be yours for years to come. It's a busy time with a lot of little tasks to tackle and for some, it can even be a bit overwhelming. As exciting as moving into your custom home may be, it's important that you know what steps you should take once you start to get settled in. Below are just a few recommendations for steps you may want to take once you've moved into your new custom home.
Use a Stud Sensor
Once you move in, it may be tempting to put some nails in those walls and hang art immediately. However, you don't want to cause any damage to your brand new home. Art is a great way to express yourself and take customization to a new level, but it's important that you take steps to circumvent any damage, which is why we recommend using a stud sensor. Taking advantage of a stud sensor prevents damage to ductwork, cables, or your walls.
Change Your Address
Moving legally requires you to update your address in a few key places. This includes your bank and the DMV, but it also makes sense to quickly update all of your favorite online shopping sites, banks, and anything related to your healthcare. By putting in a request with the post office, you can have your mail forwarded to your new address for some time to prevent any mix-ups, but it's still advisable to get everything changed as soon as you can.
Let Utility Providers Know
If you're moving to an area that your old utility provider services, you may want to bring them along with you and let them know of your moving. It's good to set up utilities like telephone services, cable, and Internet beforehand so you don't have to worry about it once you're already moved in. Your home builder may be able to help you out with this step as well to make sure everything goes smoothly.
Finalizing the Details
After moving in, you want to maintain contact with your home builder. You may have questions down the road and they should provide you with adequate documentation about everything from your appliances to info about what windows were used. Skim through all of your documentation and see if you have any questions you want to clear up.
Contact Accessible Home Builders Today
Here at Accessible Home Builders, we're proud to say we've been building and remodeling homes since 1994. In that time, we've serviced the areas of Rehoboth Beach, Lewes, Selbyville, Seaford, Millsboro, Georgetown, Laurel, and more communities within Delaware. We work to guarantee a high level of professionalism, dedication, and the use of quality materials to ensure our customers have the home they deserve.
To get in touch with us, give us a call at our office at 302-663-0464, send us an email at info@accessiblehomebuilders.com or visit us in person at 28412 DuPont Blvd, #103 Millsboro, DE 19966. Alternatively, give our satellite office a call at 302-628-9571 which is located at 500 W. Stein Hwy. Seaford, DE 19973. Be sure to follow us on Facebook, Twitter, LinkedIn, Google+, and YouTube to stay updated on what we're up to!