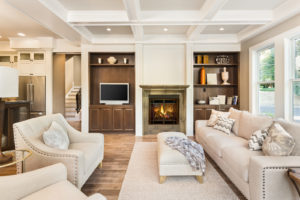 To some, custom homes are truly a symbol of taking control over your living space and pursuing freedoms in life. Not everyone is aware of how a custom home can completely change your daily life though. It's easy to settle for a prebuilt home, move in, and realize that something about it just isn't right. Those little features or even floor plan decisions may not stick out compared to big requirements like the number of bedrooms or bathrooms, but once you're moved in, they can start to take a toll on your patience. Below, we look at four of the biggest benefits of building a new custom home.
1. Reflect Yourself
Building a custom home is quite literally all about starting from the ground up. You can voice your need and have complete influence over the size and floor plan of your home, as well as all of those little features that make it feel just right for you. Your options here are nearly limitless and you can find ways to truly express not just what functions for you, but what aesthetic is yours.
2. Start Fresh
Purchasing a home from someone else means you're inheriting some kind of baggage. There may be issues regarding the upkeep of the home or those little hidden details that you won't realize initially even after a home inspector takes a look, but even if not, there's something special about moving into a new home that hasn't ever been lived in. A custom home offers you the knowledge of every little design decision and how those decisions were made, so you're never left with frustrations over what feels like a poor design.
3. Get the Most Out of Your Investment
If you're purchasing a new home, you're already making a large investment. You've already made the decision that you want to purchase a new home, so why not get the most out of that investment by feeling confident in what you're spending your money on?
4. Take Advantage of Modern Conveniences
A completely new, custom built home means you can take advantage of the latest and greatest. This means all of those energy efficient building materials and appliances, all of the smart tech that's out there, and everything else that even a year old home may not have.
Contact Accessible Home Builders Today
Here at Accessible Home Builders, we're proud to say we've been building and remodeling homes since 1994. In that time, we've serviced the areas of Rehoboth Beach, Lewes, Selbyville, Seaford, Millsboro, Georgetown, Laurel, and more communities within Delaware. We work to guarantee a high level of professionalism, dedication, and the use of quality materials to ensure our customers have the home they deserve.
To get in touch with us, give us a call at our office at 302-663-0464, send us an email at info@accessiblehomebuilders.com or visit us in person at 28412 DuPont Blvd, #103 Millsboro, DE 19966. Alternatively, give our satellite office a call at 302-628-9571 which is located at 500 W. Stein Hwy. Seaford, DE 19973. Be sure to follow us on Facebook, Twitter, LinkedIn, and YouTube to stay updated on what we're up to!