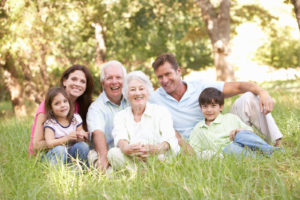 Creating a dream custom home means very different things for different people. To some, it's all about finding the right space for their hobbies, or balancing their aesthetic style with utility, but more people than ever are beginning to think about multi-generational living. Little details like wide enough doorways and a shower instead of a tub can future-proof a home and prepare you for anything. Being able to comfortably age in place and grow within your own custom home is an exciting prospect so let's take a look at why a custom home can be so great for multi-generational living.
Spaces to Gather
If you're going to be accommodating all kinds of family members over the course of decades, you're going to need spaces that make sense. This means a large enough kitchen, living, and dining area to let everyone have their own bit of space. A custom home allows you to not only maximize on space where needed, but to also build in all the appropriate storage so that those large spaces don't just end up getting cluttered. Closets and furniture with storage are essential in ensuring that your home is kept clean and functional for everyone.
Make It Accessible!
Striking the right balance of accessibility is always important. This means making sure cabinets are childproofed or that any sharp objects are inaccessible to children is critical, but it also applies to elderly family members as well. Little details like big enough doorways to fit a wheelchair can future-proof a home and prepare you for anything. A first floor master-suite or even just a larger first floor bathroom are some important design elements that can help older family members get around.
Open Floor Plans
An open floor plan is a critical part of multi-generational homes. Your custom home should make it easy for you to communicate with family members and enjoy everything it has to offer. Fewer doorways and hallways means it's easier to move from room to room, all around making everything more accessible.
Contact Accessible Home Builders Today
Here at Accessible Home Builders, we're proud to say we've been building and remodeling homes since 1994. In that time, we've serviced the areas of Rehoboth Beach, Lewes, Selbyville, Seaford, Millsboro, Georgetown, Laurel, and more communities within Delaware. We work to guarantee a high level of professionalism, dedication, and the use of quality materials to ensure our customers have the home they deserve.
To get in touch with us, give us a call at our office at 302-663-0464, send us an email at info@accessiblehomebuilders.com or visit us in person at 28412 DuPont Blvd, #103 Millsboro, DE 19966. Alternatively, give our satellite office a call at 302-628-9571 which is located at 500 W. Stein Hwy. Seaford, DE 19973. Be sure to follow us on Facebook, Twitter, LinkedIn, and YouTube to stay updated on what we're up to!