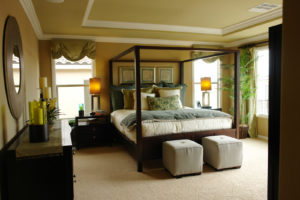 First floor master bedroom suites are really taking the world by storm. There are obvious benefits to anyone aging in place who doesn't want to have to deal with steps, meaning that having space for aging baby boomers is always doable with a first floor master suite. However, the idea has started to take hold in the minds of every generation thanks to its numerous benefits. Today, we want to look at the top four benefits of having a first floor master suite, whether that means building a new home with one or investing in home remodeling to add one to an existing space.
1. Create a Separate Space
While it may be the case that younger children should be kept near so you can keep an eye on them, just about every parent knows that having some space away from older children is liberating. Teenagers may end up keeping you awake at night or you could just want some additional privacy. Either way, having living areas within different zones of your home opens up the options and creates for much more flexibility in how you choose to organize your home.
2. Disability Friendliness
If you have a family who is wheelchair-bound or otherwise struggles with mobility, a first floor bedroom opens up the possibilities and is far easier to manage than lifts are. While lifts are a fantastic technology, they also need to be maintained and can take a chunk of time out of your day to use. With a first floor bedroom, the space becomes much more accessible to anyone who may have a disability.
3. Redefine Resale Value
In every price range, across just about every demographic, first floor master suites are huge right now. This is in part because of the aging boomer generation combined with more minimalist millennial designs. In turn, this means that for anyone who may be selling their home down the road, a first floor master suite is actually a big investment to make.
4. Better Accessibility
Your first floor might have access to a beautiful patio or you may just not like having to traverse your steps every time you want to grab something out of your refrigerator. Regardless, first floor master suites make for a more accessible home and allow for much more flexible use of the space.
Contact Accessible Home Builders Today
Here at Accessible Home Builders, we're proud to say we've been building and remodeling homes since 1994. In that time, we've serviced the areas of Rehoboth Beach, Lewes, Selbyville, Seaford, Millsboro, Georgetown, Laurel, and more communities within Delaware. We work to guarantee a high level of professionalism, dedication, and the use of quality materials to ensure our customers have the home they deserve.
To get in touch with us, give us a call at our office at 302-663-0464, send us an email at info@accessiblehomebuilders.com or visit us in person at 28412 DuPont Blvd, #103 Millsboro, DE 19966. Alternatively, give our satellite office a call at 302-628-9571 which is located at 500 W. Stein Hwy. Seaford, DE 19973. Be sure to follow us on Facebook, Twitter, LinkedIn, Google+, and YouTube to stay updated on what we're up to!