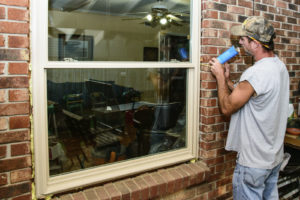 The windows of your home are an obvious essential when it comes to designing your own custom home or investing in a remodel—not only do they determine both interior and external aesthetic appeal, but can even impact your energy consumption and home resale value. Not every home that is being remodeled needs new windows, either, so it's important that you take a look at how cost-effective your current units are. Below, we outline a few of the most important considerations to make when it comes to window selection for your new remodeled home or for a custom home build.
Frame Materials
While standard wood-framed windows may be traditional, that's certainly not the only option out there. These days, many invest in vinyl thanks to its low-cost and solid construction. With the right glass and construction, vinyl frames can also make for a very energy-efficient option. That said, some just don't like the look of vinyl and the color options are limited.

When it comes to wood, it typically offers the best insulation but also requires much more upkeep. Wood frames can rot and as such it is not an advisable material if you live in a particularly humid or rainy area. Provided the wood is of high-quality and depending on the species, this may be much less of an issue. Aluminum is often used in place of wood in areas that are rainy or humid, though aluminum underperforms when it comes to heat transfer and loss. There are also options that combine traditional elements, like wood-clad windows or composite windows.
The Glass
As important as window frames may be, you can't forget what makes a window a window: glass. Many homeowners these days are opting for low-E double-paned glass with a vacuum-sealed argon fill, which may be a bit more expensive, but that added cost pays off in the long run. There are options that go even further than this, though the jury is out on whether or not the returns begin to diminish at some point. For example, triple-pane windows may be more efficient in harsher winters, but it comes at the cost of reduced visibility.
Contact Accessible Home Builders Today
Here at Accessible Home Builders, we're proud to say we've been building and remodeling homes since 1994. In that time, we've serviced the areas of Rehoboth Beach, Lewes, Selbyville, Seaford, Millsboro, Georgetown, Laurel, and more communities within Delaware. We work to guarantee a high level of professionalism, dedication, and the use of quality materials to ensure our customers have the home they deserve.
To get in touch with us, give us a call at our office at 302-663-0464, send us an email at info@accessiblehomebuilders.com or visit us in person at 28412 DuPont Blvd, #103 Millsboro, DE 19966. Alternatively, give our satellite office a call at 302-628-9571 which is located at 500 W. Stein Hwy. Seaford, DE 19973. Be sure to follow us on Facebook, Twitter, LinkedIn, Google+, and YouTube to stay updated on what we're up to!