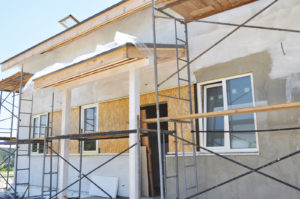 There's a basic concept that applies to practically any kind of project called the Project Management Triangle, which is used to influence how we think about the resulting quality of said project. It helps us answer basic questions such as how big the project will be, what time it will be completed in, and how much money will be spent on it, all of which can have a lasting influence on the quality in the end. The right custom home builder will be able to work with you to balance scope, time, and cost in a way that effectively results in you getting the home of your dreams.
Time
How long do you want to spend having your custom home built? The more the days go on, the more money you're going to spend, but the more complete a home may feel depending on what you're going for. Investing more time in a project allows for more to be done, but it's also a good idea to create hard stops on deadlines so that you never go overboard with the project. At times, the scope of the project may have to be cut back in order to get everything completed on time.
Scope
When it comes to scope, you're going to be asking a lot of questions about how important certain features are. You may be dead set on installing a hot tub in the master bathroom, but that also increases the cost and time spent on the project. Building a custom home means building the home of your dreams, but it also means managing your expectations and remaining grounded during the planning and execution processes.
Cost
A good custom home builder will walk you through the process of figuring out a rough estimate for labor and materials. It's not uncommon for those costs to change during the project implementation, however, and one should be prepared to retackle the cost element of custom home building a few times throughout the project. Something like trying to complete a project on a specific deadline or trying to increase the scope of a project, which may increase the number of resources needed, can have a big impact on the cost spent.
Contact Accessible Home Builders Today
Here at Accessible Home Builders, we're proud to say we've been building and remodeling homes since 1994. In that time, we've serviced the areas of Rehoboth Beach, Lewes, Selbyville, Seaford, Millsboro, Georgetown, Laurel, and more communities within Delaware. We work to guarantee a high level of professionalism, dedication, and the use of quality materials to ensure our customers have the home they deserve.
To get in touch with us, give us a call at our office at 302-663-0464, send us an email at info@accessiblehomebuilders.com or visit us in person at 28412 DuPont Blvd, #103 Millsboro, DE 19966. Alternatively, give our satellite office a call at 302-628-9571 which is located at 500 W. Stein Hwy. Seaford, DE 19973. Be sure to follow us on Facebook, Twitter, LinkedIn, Google+, and YouTube to stay updated on what we're up to!