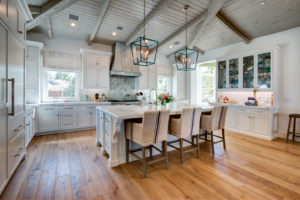 While the interior of a recently remodeled condo may look strikingly similar to that of a stand-alone home, the process behind condo renovations is very different. Every condo comes packages with its own unique traits like size available and what's even possible to implement. These are all elements that should be considered and tackled before any actual renovations take place. Read on to find out our top considerations worth being familiar with before you begin with any condo renovations.
Condo Board Policies
First and foremost, it's important to know what the rules are. Condo boards are unique in what their policies may be, so check for any regulations regarding cosmetic decisions, materials used, or any other major sticking points that could impact your project. Typically, there are at least policies about what days and times renovations can even take place and other logistical notions like what elevators can be used. Being familiar with these policies is essential to keeping your neighbors happy, but if you wait until last minute to find out what the rules are, it can end up slowing your project down.
What's the Goal?
Condo renovations can happen for different reasons that appeal to different kinds of people. Sometimes, it's to increase your enjoyment of your available space, but other times the goal is to increase resale or rental values. Determining whether the renovation is for the current resident or just for prospective future residents can really guide the renovation process. What may appeal to one individual isn't always best for increasing returns on investments.
What Are the Limitations?
As with any kind of construction job, there are limitations regarding what you can do. In condos, it's difficult to work around things like intrusive walls or plumbing fixtures that can't be realistically altered. However, remember that even if there are elements that can't be changed, there are always tricks to skirt around the issue and lead the eye to a more aesthetically pleasing place.
Contact Accessible Home Builders Today
Here at Accessible Home Builders, we're proud to say we've been building and remodeling homes since 1994. In that time, we've serviced the areas of Rehoboth Beach, Lewes, Selbyville, Seaford, Millsboro, Georgetown, Laurel, and more communities within Delaware. We work to guarantee a high level of professionalism, dedication, and the use of quality materials to ensure our customers have the home they deserve.
To get in touch with us, give us a call at our office at 302-663-0464, send us an email at info@accessiblehomebuilders.com or visit us in person at 28412 DuPont Blvd, #103 Millsboro, DE 19966. Alternatively, give our satellite office a call at 302-628-9571 which is located at 500 W. Stein Hwy. Seaford, DE 19973. Be sure to follow us on Facebook, Twitter, LinkedIn, Google+, and YouTube to stay updated on what we're up to!