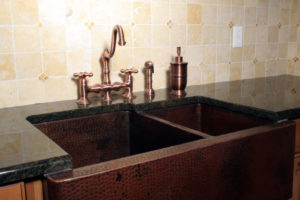 Whether you want to hop on some interior remodeling trends because you like keeping your home looking modern or just because you're considering how to make your home more of an investment, knowing what's trending is always a good idea. There are a ton of options out there when it comes to interior remodeling and much of it boils down to personal tastes. If you're building a new home or remodeling an existing one, read on to find out some of the top interior remodeling trends we expect to see this year.
Unique Sinks
Metallics and hammered finished sinks are big right now. There's a whole lot of options out there, but the idea here is to make your bathroom sink feel like more of an art piece than just a functional addition to your bathroom. Bronze, which was out of style for quite a while, has become popular again and can give your sink fittings a truly unique aesthetic. This can be applied to the kitchen as well, like installing a unique hammered copper farmhouse sink to make your cooking space a bit more lively.
Minimalist Designs
Minimalism—especially in high utility spaces like the kitchen—is in right now. This can come in a few different forms, including the bold design of having no upper cabinets within your kitchen. Such an option makes for a clean kitchen design that feels accessible and open. In general, however, cutting down on the frills is a huge interior remodeling trend we've been seeing gain steam these past few years and particularly in 2019.
Colored Appliances
While people may be opting for minimal kitchen designs that get the job done, that doesn't mean people aren't adding a splash of color to their home. Choosing a blue refrigerator or a red stove is an awesome way to add a splash of color into an otherwise drab space. Just because your design is minimal in terms of what you actually put in your kitchen doesn't mean it can't still be beautiful and bold.
Contact Accessible Home Builders Today
Here at Accessible Home Builders, we're proud to say we've been building and remodeling homes since 1994. In that time, we've serviced the areas of Rehoboth Beach, Lewes, Selbyville, Seaford, Millsboro, Georgetown, Laurel, and more communities within Delaware. We work to guarantee a high level of professionalism, dedication, and the use of quality materials to ensure our customers have the home they deserve.
To get in touch with us, give us a call at our office at 302-663-0464, send us an email at info@accessiblehomebuilders.com or visit us in person at 28412 DuPont Blvd, #103 Millsboro, DE 19966. Alternatively, give our satellite office a call at 302-628-9571 which is located at 500 W. Stein Hwy. Seaford, DE 19973. Be sure to follow us on Facebook, Twitter, LinkedIn, Google+, and YouTube to stay updated on what we're up to!