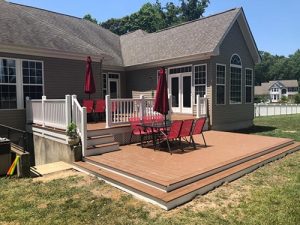 If you're planning to add a deck to your home or replace an existing one, there are a lot of factors to consider. Your decking material will play a significant role in determining the longevity of your deck, how much maintenance it requires, and how it looks and holds up over time. In this blog, we'll explore some of the benefits of vinyl decks and how they can enhance your custom home.
Durability
Vinyl decks offer a range of benefits, with durability being one of the most significant. Unlike wood, vinyl decking is resistant to warping, splitting, molding, and rotting. Additionally, it is impervious to insects, making it a hassle-free option that eliminates the need to worry about pest control. Vinyl decking is also smooth and splinter-free, making it ideal for barefoot walking. Moreover, vinyl decking is highly resistant to scratches and stains, making it less prone to regular wear and tear damage. With vinyl decks, you can confidently enjoy outdoor activities and have outdoor furniture without worrying about damage to your deck.
Low Maintenance
If you are a homeowner, you know that home maintenance is a crucial aspect of homeownership. One of the areas that require regular maintenance is a wood deck. The maintenance includes cleaning, re-staining, repainting, replacing boards, and resealing. However, if you are looking for a low-maintenance option, you can opt for a vinyl deck. Vinyl decks require very little maintenance and are practically maintenance-free. To keep them looking great, you only need to clean them occasionally.
Easy Customization
When adding a deck to your home, many factors must be considered. Every detail is crucial, from the deck's design, layout, and color to its material. If you are looking for a deck with high customizability, a vinyl deck is an excellent option. Apart from providing a wide range of colors to match any home décor, vinyl can also be manufactured to resemble other materials. This is especially beneficial if you prefer the natural look of wood but don't want to deal with its maintenance. With a vinyl deck, you can have a deck that resembles wood without the hassle of upkeep.
Increased Property Value
Adding a deck to your home can provide several benefits, such as increased home value. Vinyl decks, in particular, offer a variety of advantages that can also improve your home's curb appeal. A well-designed and sturdy deck can also provide a relaxing outdoor space for you and your family to enjoy for many years. 
Contact Accessible Home Builders Today
Here at Accessible Home Builders, we're proud to say we've been building and remodeling homes since 1994. We've serviced Rehoboth Beach, Lewes, Selbyville, Millsboro, Georgetown, Laurel, and more communities within Delaware in that time. We work to guarantee a high level of professionalism, dedication, and the use of quality materials to ensure our customers have the home they deserve.
To get in touch with us, give us a call at our office at 302-663-0464, send us an email at info@accessiblehomebuilders.com or visit us in person at 28412 DuPont Blvd, #103 Millsboro, DE 19966. Follow us on Facebook, Twitter, Linked In, and YouTube to stay updated on what we're up to next!