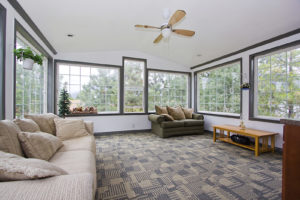 Nowadays, many homes are constructed with energy efficiency as a top priority. When planned and built effectively, they can reduce energy waste and generate long-term savings on energy expenses. Collaborating with an experienced custom home builder such as Accessible Home Builders guarantees that your personalized residence is constructed with superior materials, caters to your requirements, and is energy-efficient. Here are some suggestions for building an energy-efficient custom home.
Prioritize Energy-Efficient Windows
Upgrading to high-performance, energy-efficient windows can be an excellent way to maintain comfortable indoor temperatures while reducing energy bills. Although these windows may have a higher price tag, their superior quality pays off over time by effectively blocking extreme temperatures and retaining moderate ones. Investing in these windows is a smart way to save money and enhance your home's energy efficiency.
Adequate Insulation
If you want your custom home to be energy-efficient, one of the most important things you can do is ensure that it's adequately insulated. Proper insulation helps keep drafts out and ensures that your heating and cooling efforts stay inside your home, where they can have the most impact. At the same time, insulation prevents air and moisture from outside from getting in, which regulates the temperature inside your home and allows your HVAC system to work more efficiently. Investing in proper insulation can lead to significant energy savings.
It's an essential component of making your custom home energy efficient. By keeping outside air and moisture out, insulation helps regulate the temperature inside your home. As a result, your heating and cooling systems work correctly. You'll also enjoy a more comfortable living space, with insulation helping to keep your home warmer in the winter and cooler in the summer.
Solar Panels Are Also Helpful
Installing solar panels in your new home can offer many benefits, including saving money. Solar energy reduces monthly energy consumption and can lead to tax credits, rebates, and other incentives. Additionally, solar panels can increase the value of your property. Reducing your annual energy consumption can save money and make your home more profitable.
Consider Installing Ceiling Fans
Ceiling fans offer a significant advantage in circulating air throughout a room and maintaining a consistent temperature. However, it's essential to remember that they work best in rooms with high ceilings. At Accessible Home Builders, we believe that building an energy efficient home always make money sense. For example,  it isn't cost-effective to pay $5,000 for an efficient add on that only saves you $5.00 per month on your electric bill. We believe that typically a seven-year payback on  efficient upgrades makes the most sense.
Contact Accessible Home Builders Today
Here at Accessible Home Builders, we're proud to say we've been building and remodeling homes since 1994. We've serviced Rehoboth Beach, Lewes, Selbyville, Millsboro, Georgetown, Laurel, and more communities within Delaware in that time. We work to guarantee a high level of professionalism, dedication, and the use of quality materials to ensure our customers have the home they deserve.
To get in touch with us, give us a call at our office at 302-663-0464, send us an email at info@accessiblehomebuilders.com or visit us in person at 28412 DuPont Blvd, #103 Millsboro, DE 19966. Follow us on Facebook, Twitter, Linked In, and YouTube to stay updated on what we're up to next!