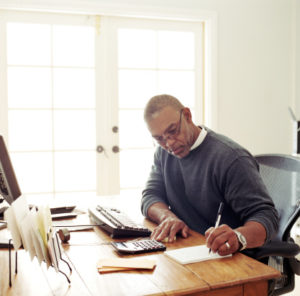 It is no secret that millions of Americans work from home. However, working from home can be challenging. One of the biggest challenges is creating the right work environment that allows you to remain distraction-free and focused on all tasks during work hours. To address this challenge, building a home office inside your custom home can be a great solution. Learn more about the benefits of a home office below and how they can help you. 
Give Unused Space A Purpose
Many homeowners possess spare rooms or basements that are either finished or unfinished, which often need to be utilized. A great way to make the most of these unused areas is by converting them into home office spaces. It is important to note that a home office can also double up as a study area for children who attend school. This not only optimizes the use of available space but also creates a conducive environment for work and study within the comfort of your home.
Work Distraction-Free Within The Comfort Of Your Own Home
When working from home, staying focused and avoiding distractions can be challenging, especially if you have young children. Creating a home office is an excellent solution for remote work because it can help you be more productive and develop practical time management skills. A designated workspace also enables you to separate your personal and professional life better, making it easier to maintain a healthy work-life balance. Soundproofing your home office can also boost your productivity by minimizing external noises and distractions.
Restrict Traffic Throughout Your Home 
When working remotely, setting up your work desk in an area other than your designated office space, such as your living room, can lead to distractions, especially if other people are in your home. It is common for individuals to resort to working on their kitchen table in such situations. However, having a dedicated home office keeps interruptions and distractions at bay. With a separate room designated as your office, you can limit the use of other areas of your home and create a more productive work environment.
Increase The Value Of Your Custom Home
The more features your home has, the greater its value. Adding a home office increases your home's value and can make it easier to sell if you move on one day. If potential buyers work from home all or part of the time, they'll like that your home already has a designated home office prepared for them. Don't have space for a home office in your current place but want one installed? Then don't hesitate to contact our team at Accessible Home Builders for more information. 
Contact Accessible Home Builders Today
Here at Accessible Home Builders, we're proud to say we've been building and remodeling homes since 1994. We've serviced Rehoboth Beach, Lewes, Selbyville, Millsboro, Georgetown, Laurel, and more communities within Delaware in that time. We work to guarantee a high level of professionalism, dedication, and the use of quality materials to ensure our customers have the home they deserve.
To get in touch with us, give us a call at our office at 302-663-0464, send us an email at info@accessiblehomebuilders.com or visit us in person at 28412 DuPont Blvd, #103 Millsboro, DE 19966. Follow us on Facebook, Twitter, Linked In, and YouTube to stay updated on what we're up to next!