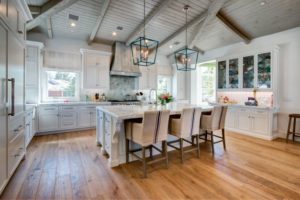 Kitchen design trends tend to change with time, like most other trends. Nevertheless, some kitchen designs remain popular due to their timeless features. What sets these custom kitchen designs apart is their features that will always be crucial for any kitchen. As you embark on your kitchen remodeling journey with Accessible Home Builders, consider which design suits your home best.
Traditional Kitchens
The classic or traditional kitchen design is highly favored due to its timeless appeal. It requires meticulous attention to detail to achieve a successful classic kitchen. This style incorporates crown molding, archways, corbels, and wainscoting to elevate the "safe" cabinet and countertop choices. While natural wood cabinet finishes were once the norm for many kitchens, white and other colored cabinets are now becoming increasingly popular in this design.
A Contemporary Kitchen
Modern and contemporary kitchens have a different style from traditional ones, characterized by clean and minimalist lines. This design approach uses simple elements and accessories that allow the materials to stand out independently. For instance, cherry wood cabinets with solid black hardware can create a simple yet elegant appearance.
A Craftsman Kitchen
Craftsman kitchens showcase natural style with rich woods and custom features like nooks, open shelving, and wine racks that add a personal touch to your custom home.
Farmhouse Style Kitchen 
Farmhouse kitchen designs are all about utilizing open space and natural light. Light, warm colors, wide sinks, and large islands create an inviting and comfortable room. The farmhouse kitchen has much in common with traditional kitchens, but you can add to the farmhouse appeal by including features like large, shaded light fixtures and glass-paned cabinet doors.
Rustic Kitchen Designs 
Rustic kitchen ideas charm your home in a subtle yet effective way. Vintage cabinets, deeper hues, brushed metals, and furniture can help create the desired atmosphere. These five kitchen designs are the most commonly utilized by homeowners, but they may frequently be used in creative combinations to create a style that completely suits your home and preferences.
Contact Accessible Home Builders Today
Here at Accessible Home Builders, we're proud to say we've been building and remodeling homes since 1994. We've serviced Rehoboth Beach, Lewes, Selbyville, Millsboro, Georgetown, Laurel, and more communities within Delaware in that time. We work to guarantee a high level of professionalism, dedication, and the use of quality materials to ensure our customers have the home they deserve.
To get in touch with us, give us a call at our office at 302-663-0464, send us an email at info@accessiblehomebuilders.com or visit us in person at 28412 DuPont Blvd, #103 Millsboro, DE 19966. Follow us on Facebook, Twitter, Linked In, and YouTube to stay updated on what we're up to next!