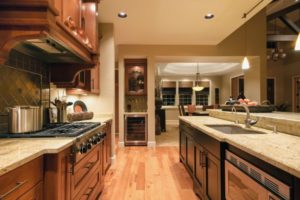 The kitchen is one of the most critical areas in your home that can significantly benefit from renovations. It is a complex and frequently used room that combines electrical, plumbing, and storage components. More importantly, it must be tailored to meet your lifestyle needs. Here are some practical benefits of installing a custom kitchen in your home.
Revamp Your Space With A Custom Kitchen 
Many kitchens are created with different layouts and dimensions. Crafting a design that is appropriate for your kitchen yields the best results. When renovating your kitchen, be mindful of the structural elements and components within your home for a seamless process. 
Personalize Your Kitchen To Meet Your Specifications
Designing a kitchen tailored to your dining needs can be achieved through customization. Whether you need to store specific equipment or have a passion for baking and cooking, you can personalize the space with storage solutions to enhance the functionality of your customized kitchen.
Increase The Value Of Your Home 
Some kitchen remodels can be costly and require significant time and effort. However, investing in a kitchen that aligns with your style and functional requirements will be worthwhile. Furthermore, a personalized kitchen can increase the value of your property should you ever decide to put it on the market.
Improve The Overall Quality Of Your Kitchen
Designing your kitchen requires careful consideration and attention to detail. The same level of care is put into creating and installing your cabinetry, lighting, flooring, countertops, and other vital components. Are you ready to upgrade your kitchen into a space you can be proud of? If so, contact Accessible Home Builders today, and we will guide you throughout the remodeling process.
Contact Accessible Home Builders Today
Here at Accessible Home Builders, we're proud to say we've been building and remodeling homes since 1994. We've serviced Rehoboth Beach, Lewes, Selbyville, Millsboro, Georgetown, Laurel, and more communities within Delaware in that time. We work to guarantee a high level of professionalism, dedication, and the use of quality materials to ensure our customers have the home they deserve.
To get in touch with us, give us a call at our office at 302-663-0464, send us an email at info@accessiblehomebuilders.com or visit us in person at 28412 DuPont Blvd, #103 Millsboro, DE 19966. Follow us on Facebook, Twitter, Linked In, and YouTube to stay updated on what we're up to next!