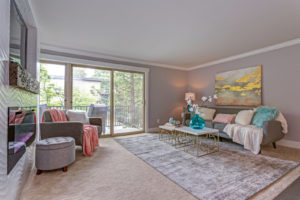 Choosing the best type of flooring for your condo will leave you plenty of options. Not only do these floors look fantastic, but they are durable and affordable. Flooring has come a long way, and you can find anything you want. Be sure to consider these flooring types for your condominium renovations. 
Hardwood Flooring 
Hardwood flooring in a condo will always stay in style. It always looks lovely and lasts for a long time. Although it is more expensive than certain other materials, it is nonetheless widely used. It can come in various colors or be finished in the color of your choice. They are simple to maintain and complement any design and décor in your apartment. They can be refurbished as needed for many years.
Laminated Floors 
Laminate flooring is another good alternative for replacing condo flooring. One of the most appealing features is that it can be made to look like any other material. Although hardwood and stone are popular, you can choose whatever color or style. Laminate is highly durable, won't stain or fade, and is moisture-resistant. This, combined with its low cost and durability, makes it the ideal flooring choice for your condo.
Carpet 
Carpet is a popular option for condo flooring. Adding carpets to your living room and bedroom creates a welcoming atmosphere. Carpets are excellent for noise reduction and come in various colors and styles. They are a perfect way to bring color and personality to a plain environment. To tie everything together, match the colors to the accents in the space. Carpeting is soft and warm, and it makes you feel at ease.
Vinyl Plank Flooring 
Vinyl plank flooring is also another excellent choice for condo flooring. It is a reliable and durable choice for your condominium. By taking proper care and maintenance, it can last for up to 20 years or even more. It is essential to clean it regularly with approved cleaning products and prevent any scratching or gouging on the surface.
Contact Accessible Home Builders Today
Here at Accessible Home Builders, we're proud to say we've been building and remodeling homes since 1994. We've serviced Rehoboth Beach, Lewes, Selbyville, Millsboro, Georgetown, Laurel, and more communities within Delaware in that time. We work to guarantee a high level of professionalism, dedication, and the use of quality materials to ensure our customers have the home they deserve.
To get in touch with us, give us a call at our office at 302-663-0464, send us an email at info@accessiblehomebuilders.com or visit us in person at 28412 DuPont Blvd, #103 Millsboro, DE 19966. Follow us on Facebook, Twitter, Linked In, and YouTube to stay updated on what we're up to next!