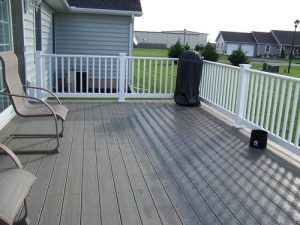 Decks are vulnerable to damage from weather elements, insects, dirt, and debris. Decks must be cleaned and maintained frequently to keep them in good condition. This blog contains helpful and practical information on keeping your deck looking new.
Cleaning Is The First Part Of The Process
A cleaning schedule is the most effective technique to keep your deck looking pristine. Old stains must be removed from the deck before you can begin sealing or staining. By establishing a cleaning routine, you can easily maintain the appearance of any deck.
Make Necessary Repairs And Inspections
Be sure to inspect your deck whenever the seasons change. Examine different parts and components for cracks and rust. Repairing damaged areas as quickly as possible can prevent issues from being exacerbated. You can always contact the helpful staff at Accessible Home Builders if you want to install a new deck, and we can build the deck of your dreams.
Pressure Wash Your Deck
It is advisable to pressure wash your deck at least once a year. When you pressure wash, experts recommend doing so in optimal conditions. The temperatures should be at least 52 degrees Fahrenheit anytime you power wash your deck.
Invest In Deck Lighting
In addition to making your outdoor living space feel a little more like home, adding lights can help reduce severe safety issues, especially at night. Your deck instantly becomes more functional, illuminated, and inviting with the help of deck lights. Many options are available to get creative with your lighting options.
Contact Accessible Home Builders Today
Here at Accessible Home Builders, we're proud to say we've been building and remodeling homes since 1994. We've serviced Rehoboth Beach, Lewes, Selbyville, Millsboro, Georgetown, Laurel, and more communities within Delaware in that time. We work to guarantee a high level of professionalism, dedication, and the use of quality materials to ensure our customers have the home they deserve.
To get in touch with us, give us a call at our office at 302-663-0464, send us an email at info@accessiblehomebuilders.com or visit us in person at 28412 DuPont Blvd, #103 Millsboro, DE 19966. Follow us on Facebook, Twitter, Linked In, and YouTube to stay updated on what we're up to next!