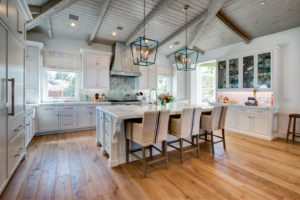 If you've paid any attention to interior design trends, you likely already know that open concept kitchens have become massively popular in the past decade or so. While possibly more people than ever are choosing open kitchens, the debate regarding which is best rages on. The truth is that there is no option that is simply and universally superior, but that each has its own benefits and drawbacks, making them suitable for specific uses and largely dependent upon the resident's needs. Knowing whether an open or closed kitchen floor plan is right for your custom home or not isn't always easy, however, so we've worked out some of the major pros and cons to each option below.
Why Are Open Kitchens So Popular?
With an open kitchen, it feels as though you're getting a larger amount of space by allowing your cooking area to blend in with your living room. As the name suggests, this makes everything feel more "open" and is fantastic for those who like to host guests or have children they want to keep an eye on while whipping up dinner. Sectioning off the kitchen with an island or furniture can help create a sense of separation while still maintaining all of the perks of having an open space. This may not be ideal for anyone who really values a sense of privacy, however, and more traditional closed kitchens do have their advantages.
What About Traditional Closed Kitchens?
With a closed kitchen, you can create a space that feels like home. Some prefer the very traditional idea of cooking family supper, sitting down as a group, and enjoying the meal while talking to each other and enjoying each other's company. This can be done in an open kitchen as well, but people have a tendency to drift away, become distracted, or ultimately feel less engaged with everything if it's in an open space.
Custom Homes Give You Flexibility!
The beauty of a custom home is that it allows you the flexibility to create a kitchen that works for you. Kitchens are often the heart of a home, so it's no wonder that many people have their own opinion on what makes them great.
Contact Accessible Home Builders Today
Here at Accessible Home Builders, we're proud to say we've been building and remodeling homes since 1994. In that time, we've serviced the areas of Rehoboth Beach, Lewes, Selbyville, Seaford, Millsboro, Georgetown, Laurel, and more communities within Delaware. We work to guarantee a high level of professionalism, dedication, and the use of quality materials to ensure our customers have the home they deserve.
To get in touch with us, give us a call at our office at 302-663-0464, send us an email at info@accessiblehomebuilders.com or visit us in person at 28412 DuPont Blvd, #103 Millsboro, DE 19966. Alternatively, give our satellite office a call at 302-628-9571 which is located at 500 W. Stein Hwy. Seaford, DE 19973. Be sure to follow us on Facebook, Twitter, LinkedIn, and YouTube to stay updated on what we're up to!