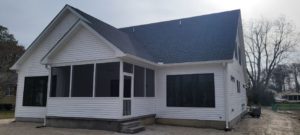 Your custom home's roof has a significant influence on its appearance, security, and durability, not to mention your money. The sort of materials you can use, and your homeowners' organization may govern the color, style, and pitch of your roof. Continue reading to learn more about the many roofing options for your custom home.

Consider These Factors
Many factors can dictate which materials you should consider for your roofing needs.
The architectural design of your home is a primary factor in the design of your roof.

Homeowners associations often mandate roof selections.

The color should complement the exterior of your home.

Specific colors are also considered more energy efficient.

The local weather may influence which roofing material to use.

Your budget may also dictate what roof to install on your home.
Metal Roofing
Contrary to what you might recall, corrugated tin is no longer the standard for metal roofing. Contemporary metal roofs are in demand due to their durability and are composed of zinc, steel, copper, and aluminum. Metal roofs can be built in any color, style, or texture. Below are just some of the few advantages of metal roofing.
Metal roofing has an exceptional lifespan and is typically under warranty for up to 50 years.

Many of them have Class A fire ratings, saving you money on your hohomeowner'snsurance and preventing a fire from spreading to your roof.

Most of the metal used in metal roofs is recycled, and the roof is recyclable.

Numerous residential metal roof materials adhere to the strictest building regulations.
Composite Shingles
These are the roofing materials for custom homes that are most frequently used and least expensive. It is commonly constructed from a fiberglass base covered in mineral granules and asphalt, or from recycled paper that has been saturated and covered in granules. It comes in a range of hues and is commonly used. Asphalt roofs, which are simple to install and maintain, can be strengthened with organic materials or fiberglass to boost their durability.
They are available in many colors, easy to find, affordable, and easy to replace.

In lighter colors, shingles can provide light reflectance to improve the home's energy efficiency. Some shingles can also emit light as well, further reducing

energy

needs.

Fiberglass shingles offer excellent protection against fire and may provide a price decrease on your homeowner's insurance.
Contact Accessible Home Builders Today
Here at Accessible Home Builders, we're proud to say we've been building and remodeling homes since 1994. We've serviced Rehoboth Beach, Lewes, Selbyville, Millsboro, Georgetown, Laurel, and more communities within Delaware in that time. We work to guarantee a high level of professionalism, dedication, and the use of quality materials to ensure our customers have the home they deserve.
To get in touch with us, give us a call at our office at 302-663-0464, send us an email at info@accessiblehomebuilders.com or visit us in person at 28412 DuPont Blvd, #103 Millsboro, DE 19966. Follow us on Facebook, Twitter, Linked In, and YouTube to stay updated on what we're up to next!