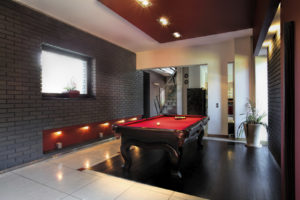 Basements are one of those wonderful flex spaces where you can end up using it for whatever you need to. Many families opt to use unfinished basements as storage spaces, but by finishing your basement, it opens up a whole new world of possibilities. You could use it as a den or home theater, add a guest room or two for visiting relatives, or even create an entirely separate downstairs apartment to capitalize on some extra passive income from your custom home investment. Regardless of how you would use a finished basement, it seems clear that there are many benefits to taking advantage of the space in creative, unique ways.
Tailored to Your Needs
A finished basement allows you to create new rooms that are perfect for your needs. You may have older children who want a bit more privacy than usual and by creating a living space for them downstairs, they can develop a sense of independence that they may not feel if they were on the same floor as everyone else. You could also use this space to create a carpeted home theater or living room, allowing for the ideal atmosphere for spending a night in the company of your loved ones and watching a film or playing games together.
Increasing Value
Your custom home is an investment and creating a finished basement is one such way of increasing the value of that investment. If you plan to sell your home one day, the increased amount of space can be a big selling point to homebuyers. Many people are already taking the time to convert unfinished basements into usable and livable spaces, so by doing so right off the bat, you can create an enticing element for any potential buyers down the road.
A Space for Recreation
If you have a specific hobby that takes up a good deal of space, like weight lifting or painting, you may not have anywhere else in your home to put all of the necessary supplies. Finished basements are the perfect space for recreation in a custom home and can be used for everything from a children's play space to a pool table where everyone can sharpen their skills. Your custom home is an expression of who you are and what your interests are, and a finished basement is an ideal place to really embrace that idea and run wild with your dreams.
Contact Accessible Home Builders Today
Here at Accessible Home Builders, we're proud to say we've been building and remodeling homes since 1994. In that time, we've serviced the areas of Rehoboth Beach, Lewes, Selbyville, Seaford, Millsboro, Georgetown, Laurel, and more communities within Delaware. We work to guarantee a high level of professionalism, dedication, and the use of quality materials to ensure our customers have the home they deserve.
To get in touch with us, give us a call at our office at 302-663-0464, send us an email at info@accessiblehomebuilders.com or visit us in person at 28412 DuPont Blvd, #103 Millsboro, DE 19966. Alternatively, give our satellite office a call at 302-628-9571 which is located at 500 W. Stein Hwy. Seaford, DE 19973. Be sure to follow us on Facebook, Twitter, LinkedIn, and YouTube to stay updated on what we're up to!