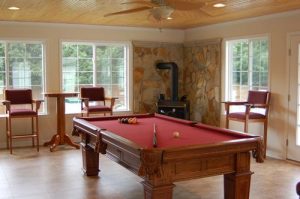 Are you considering an interior remodeling project for your custom home? If so, here at Accessible Home Builders, we got you covered. Continue reading to identify the four benefits of remodeling your home's interior.
Interior Remodeling Can Make Your Home More Functional
When you remodel your custom home, you can customize it to accommodate your preferences and needs, allowing you to make it more comfortable and enjoyable to live in. You can repurpose idle rooms in your home and turn them into places such as a home office or even a home theater. This ensures that you're fully optimizing the space in your home, and each room serves a purpose and meets your living requirements.
Upgrade The Appearance Of Your Custom Home 
The style and design of your home might become obsolete and lose attractiveness over time. Investing in house remodeling allows you to refresh the interior appearance of your home with a new style and design that is more appealing, relevant, and invigorating. For example, suppose your kitchen has become an eyesore due to outdated paint, appliances, fixtures, features, and other elements. In that case, a house makeover can improve its appearance by replacing conventional styles with updated modern home designs.
Make Your Home More Energy-Efficient 
Interior remodeling presents a great time to upgrade components of your home, like windows and doors. You will surely see a decline in your energy bills by replacing them with well-insulated windows and doors for better temperature control and newer, more energy-efficient appliances. Focus on renovations that make the most sense when saving on energy. Think about what will help you use less electricity, heat, or air conditioning, and start with upgrading those things.
Increase The Value Of Your Property
An interior home redesign can not only improve the appearance of your home, but it can also boost its overall value. Simple interior improvements in areas such as your kitchen and bathroom may significantly increase your home's market value. This is very advantageous if you are planning to sell your home.
Contact Accessible Home Builders Today
Here at Accessible Home Builders, we're proud to say we've been building and remodeling homes since 1994. We've serviced Rehoboth Beach, Lewes, Selbyville, Millsboro, Georgetown, Laurel, and more communities within Delaware in that time. We work to guarantee a high level of professionalism, dedication, and the use of quality materials to ensure our customers have the home they deserve.
To get in touch with us, give us a call at our office at 302-663-0464, send us an email at info@accessiblehomebuilders.com or visit us in person at 28412 DuPont Blvd, #103 Millsboro, DE 19966. Follow us on Facebook, Twitter, Linked In, and YouTube to stay updated on what we're up to next!