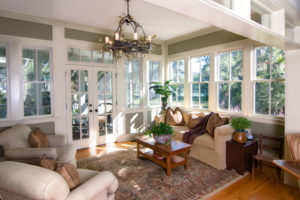 Do you want to create a cost-effective tranquil atmosphere for your home without breaking the bank? Consider adding a sunroom to your custom home. If you need ideas on designing your area, here are some aspects to consider for your custom sunroom.
Turn Your Sunroom Into A Home Office 
Transforming your sunroom into a home office is a practical way to enhance your home. You can use an existing home table to create a workspace during work hours. A suitable chair, and a stable Wi-Fi connection, can help turn your peaceful oasis into a productive working environment. 
Use Your Space As A Library 
Do you love to read books? If so, consider transforming your room into a library. Even with limited space, you can create a comfortable space to enjoy. You can also add a bookshelf for any books, and your children can even use the area to do homework if you have school-age children. 
An Extra Living Room
A great way to decorate a small sunroom is by transforming it into a living room. You can experiment with the decor to give the space a distinct feel from your main living area. Consider incorporating furniture like a coffee table, seating, and side tables. The design possibilities are endless so you can explore various styles, from rustic to coastal and beyond.
Add Shades To Your Sunroom 
Sunrooms tend to have insulated glass windows and doors. As the warmer months of the year are here, your space may still get overheated on those hot sunny days. Curtains or shades are must-haves to enjoy your space during hot weather. 
Contact Accessible Home Builders Today
Here at Accessible Home Builders, we're proud to say we've been building and remodeling homes since 1994. We've serviced Rehoboth Beach, Lewes, Selbyville, Millsboro, Georgetown, Laurel, and more communities within Delaware in that time. We work to guarantee a high level of professionalism, dedication, and the use of quality materials to ensure our customers have the home they deserve.
To get in touch with us, give us a call at our office at 302-663-0464, send us an email at info@accessiblehomebuilders.com or visit us in person at 28412 DuPont Blvd, #103 Millsboro, DE 19966. Follow us on Facebook, Twitter, Linked In, and YouTube to stay updated on what we're up to next!