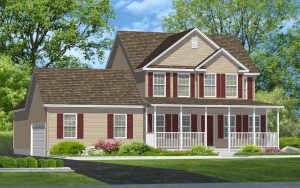 Which is better – a one-story or two-story home? This is a question that many prospective homeowners ponder. If you choose a two-story house, the good news is that it offers significant advantages. Continue reading to learn more about the many benefits of a two-story custom home.
Additional Space Equates To More Home Value 
A proven fact is that a home's size and usefulness affect its value. Therefore, consider adding to your property to increase its resale value. A second story can save a lot of outside space, especially if your lot is small. Because two-story homes allow for expansion, you can add to your custom home, such as an in-law suite.
Increased Privacy For Your Custom Home 
It makes sense that bigger is better. Your family will have more room to move around if there is a second story, and you will also have more privacy. For instance, you may use your ground floor for everyday activities while keeping your bedrooms upstairs for private time. Another advantage is that you can easily offer an upstairs room to guests or extended family members who stay with you. A two-story home can give you the seclusion you desire, especially if you value privacy.
A Second Story Improves Curb Appeal 
You can design your second-story house to include all the most desirable traditional elements of a two-story home, from a lovely balcony to stunning high ceilings. You can position yourself for a good view when you reach the top of your staircase.
A Cost-Effective Home 
Building a two-story home is more economical than a one-story one. Due to the smaller designs provided by two-story home plans, construction expenses are typically lower per square foot. Your contractors will spend less time excavating if you decide to build up rather than out. Furthermore, your two-story home will need fewer foundation and roofing materials. Additionally, you will get more value for your money since foundation materials are not required for the second floor. Ready to get started on the construction of your new two-story custom home? If so, don't hesitate to contact the home design experts at Accessible Home Builders.
Contact Accessible Home Builders Today
Here at Accessible Home Builders, we're proud to say we've been building and remodeling homes since 1994. We've serviced Rehoboth Beach, Lewes, Selbyville, Millsboro, Georgetown, Laurel, and more communities within Delaware in that time. We work to guarantee a high level of professionalism, dedication, and the use of quality materials to ensure our customers have the home they deserve.
To get in touch with us, give us a call at our office at 302-663-0464, send us an email at info@accessiblehomebuilders.com or visit us in person at 28412 DuPont Blvd, #103 Millsboro, DE 19966. Follow us on Facebook, Twitter, Linked In, and YouTube to stay updated on what we're up to next!